October 16th, 2017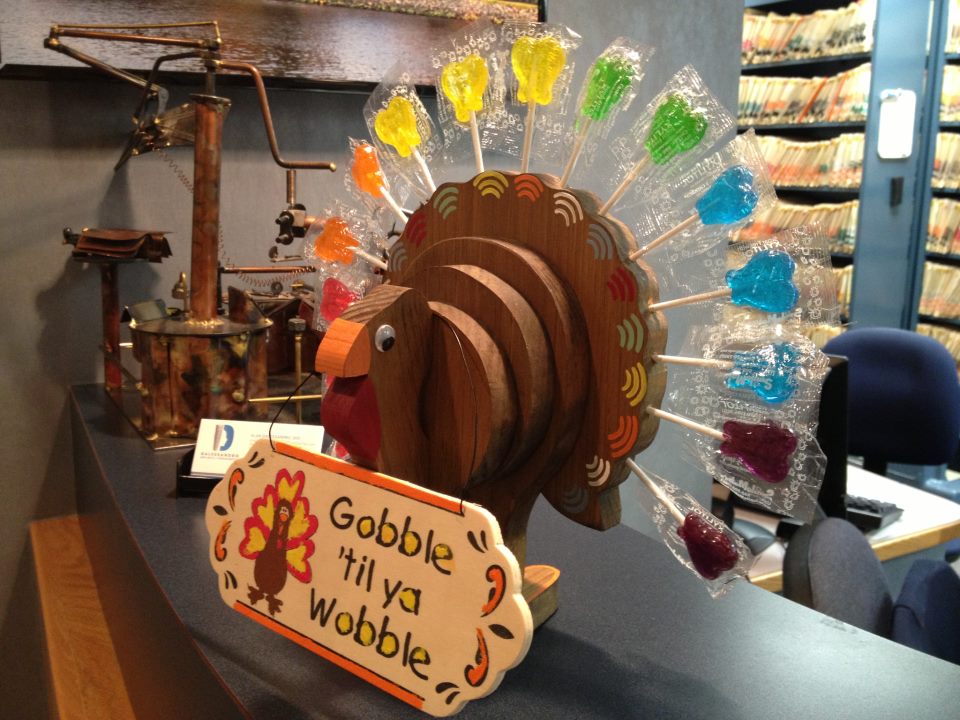 We love to celebrate fall because it brings not only the start of the holiday season but also a lot of exciting things in the office!
For those of you who have been to the office around this time of year before, you'll notice our wooden turkey is back and so are its tail feathers err, suckers. Who doesn't love a turkey that comes bearing sweets? Speaking of sweets, 'tis the season for pumpkin everything! Unfortunately Dr. Dalessandro isn't a pumpkin kind of guy, but everyone else in the office is. In fact, we love pumpkin so much we once hosted a team lunch made up entirely of pumpkin flavored foods! This year we're also looking forward to our taco salad bar Halloween tradition. We still aren't quite sure how this got started, but we will never say no to tacos!
We've got a few awesome new additions to the office, too. Our new hygienist, Christie, recently joined the team and we're so excited for you to meet her! In fact, if you schedule a periodontal maintenance appointment to meet Christie you'll receive 10% off when you mention this blog. We also just updated our cone beam CT scanner. After 10 years with our first generation scanner, it was just time for an upgrade. Lastly, we've implemented a new laser to supplement the four other lasers we currently have. This new one is specifically for bio-stimulation to encourage quicker healing following a surgical process.
Lastly, we hope you're all enjoying the sweet treats that this season can bring. If you're looking for a warm cup of coffee as the weather begins to get cooler, we highly recommend The Mug Coffee in Rolling Meadows. It's a warm, inviting place with the perfect specialty drinks to enjoy a pastry with! Just don't forget to brush and floss afterwards. Happy fall, everyone!